Reinvent the Toilet Challenge China (RTTC-China) is funded and supported by the Bill & Melinda Gates Foundation. University of Science and Technology Beijing team is responsible for the organization and implementation of all the activities for this event. Toilet Technology R&D biddings and Toilet Innovation Concept Contest by university students are included in this event. Toilet innovation creativity competition is divided into innovation competition and creative competition.
The Bill and Melinda Gates Foundation launched the Global Toilet Innovation Contest in 2011. The Gates Foundation plans to invest $380 million over five years (2011-2015) in clean water and sanitation to promote breakthroughs in technology development, policy development and marketing to make sanitation affordable to the poor.
In August 2013, RTTC-China was launched in Beijing. The competition was carried out by University of Science and Technology Beijing and lasted for 2 years. The Gates Foundation has donated $5 million to develop a new generation of health facilities in China.
In 2014, after the first round of proposal soliciting, " RTTC-China " attracted 34 application proposals from all walks of life, and the international expert team finally selected 4 excellent proposals for funding, with a total amount of about 13 million RMB. In order to explore more innovative power in China and continue to look for innovative solutions for the next generation of toilets, the second round of "RTTC-China" officially started soliciting proposals on January 26, 2015.
On the afternoon of January 26, 2015, the second round of RTTC-China sponsored by the Bill & Melinda Gates Foundation and hosted by University of Science and Technology Beijing was successfully held in Beijing. The second round of toilet Innovation Contest in China was officially launched on January 26, 2015. The results announced at the end of June.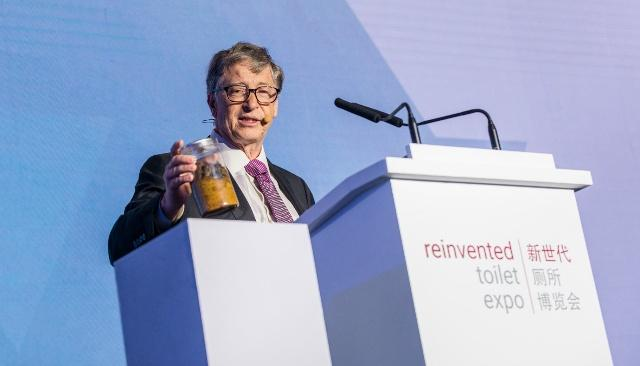 Purpose
The Toilet Innovation Contest aims to use market-driven research methods to promote the development of new and decentralized sanitation and drainage systems to fundamentally improve the living environment of the urban poor in developing countries, and the results should be able to meet market demands. In order to create good social value, the developed ecosystem should meet the requirements of novelty, dispersion, feasibility, sustainability, economic utility and comfort.
The RTTC-China targets to design, prototype and test entirely stand-alone, self-contained, practical sanitation modules which intake bodily wastes or fecal sludge collected from pit latrines and septic tanks and swiftly dispose of them without any incoming water piping, outgoing sewer piping, or electricity or gas utility services. The candidates will be supported by the Foundation to design, develop, prototype and test their innovations.
The initial idea and pragmatic work of Toilet Innovation Concept Contest by university students is to offer more opportunities to young students and inspire their creativity. There would be chance to make further research together with interested companies/institutes for those ideas which are selected.
Participants
The Toilet Innovation Competition encourages enterprises, colleges and universities, research institutes, non-governmental organizations (NGO) and other legal entities with innovation ability in related fields to actively participate in the competition. After the review by the competition expert committee, the Innovation Competition will recommend excellent solutions to be funded by the Gates Foundation, and the funds will be used for the design, research and development, trial production and operation evaluation of the selected solutions.
Toilet Technology R&D biddings intends to attract exceptionally high-qualified Chinese consortia in 1st round and consortia in which foreign institutions cold also be invited in 2nd round as a network of partners or teams from for-profit and not-for profit organizations, universities as well as top industrial design institutes and prototyping companies that can contribute to the advancement of sanitation research and development.
Objectives
- To mobilize and engage leading R&D organizations in China;
- To promote RTTC solutions that meet communities needs in African and South Asian countries as well as in China;
- To develop a business plan for BMGF and China Government for co-investing in adoption and promotion of sanitation innovation.
Sub-grantees
1. Tsinghua University (including two projects)
2. EnviroSystems Engineering & Technology Co., Ltd.
3. University of Shanghai for Science and Technology
4. Beijing University of Chemical Technology
5. Kunming Huiyun Luminous Engineering Co., Ltd.
6. China Agricultural University
7. China University of Geosciences
8. Dalian Jinshui Cleaning Equipment Factory
9. Hunan Hyso Environmental Biotechnology Co., Ltd.